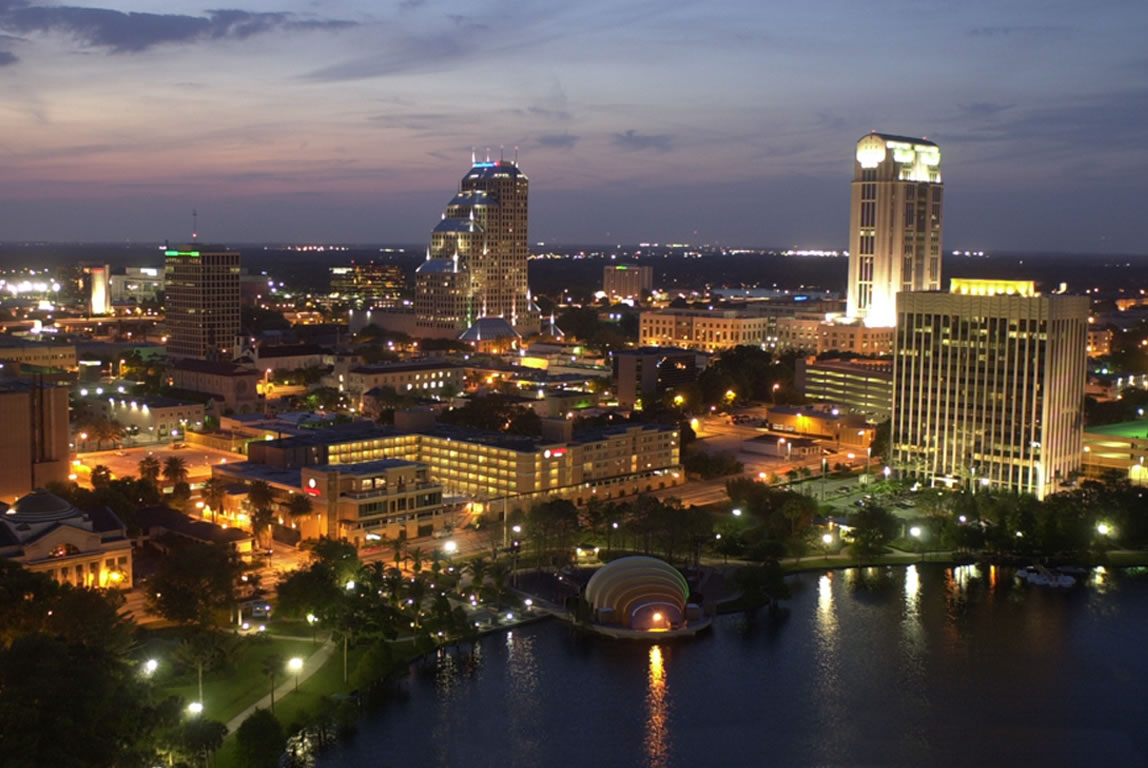 Orlando has lots of great places to see and things to do! We've listed just a few to get you started. Or check out more at 156 Fun Things to Do in Orlando.
With four parks, this wonderful world has something for kids of all ages. Inside the Magic Kingdom, Walt Disney's dream comes to life as seven unique lands are the ticket to adventure that will have you and your family truly captivated. Experience a world of fascination at Epcot where every step is an amazing tour of the sights, sounds, and tastes of eleven countries. The adventure continues in Orlando at Disney's Animal Kingdom Theme Park where animal lovers flock to the largest animal-themed park in the world. And for you movie buffs, Hollywood glitz and glamour is the feature presentation at Disney's Hollywood Studios.
Harry Potter is at Universal Orlando with two parks: Hogsmeade and Diagon Alley! Step inside a world where magic is real. Within Universal's Islands of Adventure theme park you can visit the iconic Hogwarts castle and explore Hogsmeade village. And, now open at Universal Studios Florida theme park, you can enter Diagon Alley to enjoy a brand new ride, all-new magical experiences, and more. Get ready to explore more of Harry Potter's world than ever before!
The Orlando Museum of Art is known for its African, American and Ancient art collections. It also features 10 to 12 new exhibits every year. According to the museum's website, it takes about one to two hours to tour the entire museum, which also offers adult educational programs, including lectures and art courses..
Explore SeaWorld Orlando and engage your family in the mysteries of the ocean through immersive animal discoveries and habitats, amazing attractions and rides, and unforgettable performances. Whether getting drenched by Shamu, meeting dolphins, chilling out at the Penguin Encounter, braving astounding thrill rides like Manta and Kraken, getting nose-to-nose with nature at Manatee Rescue, counting the teeth on a shark, feeding seals and sea lions at Pacific Point Preserve, vacation adventures become lifelong memories at SeaWorld.
This is the closest thing to skydiving you'll ever do without having to jump out of an airplane. It's so realistic that professional skydivers use the tunnel to practice and master their moves, yet safe enough for people of all ages without any experience to learn to fly.
Go behind the scenes, beyond the screen, and jump right into the action of your favorite movies at Universal Studios, the world's premier movie and TV based theme park. At Universal Studios, YOU become the star of some of the greatest movies and TV shows ever made.
Around every bend is another epic adventure. Around every corner awaits another once-in-a-lifetime thrill. Take an unforgettable journey through the uniquely themed islands of Universal's Islands of Adventure, where the world's most cutting edge rides, shows and interactive attractions bring your favorite stories, myths, cartoons, comic book heroes and children's tales to life.
No crowds. No turnstiles. Imagine a place where you and your family can touch and swim with dolphins, wade with mysterious rays, snorkel among thousands of exotic fish, hand-feed tropical birds in a free-flight aviary and relax on pristine beaches. Discover an all-inclusive day resort experience that's one of a kind. Reservations are required, and daily attendance is limited to around 1,000 guests a day, ensuring no overcrowding and extraordinary guest service.
La Nouba is the meeting of two worlds poles apart: the fantastic world of the circus artists - the Cirques (circus people), sporting bright, fluorescent colours–and that of the Urbains (urbanites), who wear dark, monochromatic outfits.
The doors open and the two worlds collide. Enter the attic of make-believe, where the mundane meets the marvellous. Dreams and nightmares intertwine. La Nouba which calls on both individual and collective memory, is an unforgettable journey into a world at once threatening and exhilarating, frightening and familiar. La Nouba beckons to us, challenges us to uncover passions we thought we had lost long ago; to frolic in our childhood dreams and enter a place where the extraordinary transforms and overcomes the ordinary.
Gatorland provides affordable family fun while showcasing thousands of alligators and crocodiles including four extremely rare leucistic "white" alligators. The free-flight aviary, petting zoo, one of a kind animal shows, natural alligator breeding marsh, and the "thrilling" Screaming' Gator Zip Line will ensure your day will be filled with Fun, Smiles and Special Memories!
Stay cool. That's easy to do when you spend the day at one of Central Florida's water parks. At Aquatica, SeaWorld's waterpark, you take on some of the steepest hills that twist, turn and jet you through awesome tunnels and amazing mazes. The Walt Disney World Resort offers two water parks. Blizzard Beach, the world's only ski resort water park (that's SNOW skiing), is built around a 90-foot peak called Mount Gushmore. Typhoon Lagoon features attractions for the whole family and you'll love the six-foot waves in the Surf Pool, as well as snorkeling with real sharks in the Shark Reef! At Wet n' Wild Orlando's more than 30 acres of slides and flumes, you and the kids experience the best multi-passenger tube rides around along with plenty of space to sit back, relax and take it all in.
Now that's entertainment — and delicious, too. That's what you get when dinner and theater are served up together. And when it comes to dinner shows, Orlando serves up a variety of options that keep the whole family entertained and satisfied in so many ways.
So what can we start you off with? How about a trip back to Medieval Times for incredible jousting and a meal fit for a king? You can also experience the music and fascination of the most honored dinner show in the world—Arabian Nights. Or maybe you'd like to swim with the fishes. If so, bring your gang to Capone's Dinner & Show for a fun trip back in time to Prohibition-era Chicago. Knock three times at this speakeasy and give the secret password to enter. Then come on in and soak up a musical cabaret of gangsters and molls, along with an authentic Italian buffet, just like Mama used to make. Or how about a good vs. evil story we call the Pirate's Dinner Adventure, where special effects wizardry, aerial artistry and swordplay serve up the world's most interactive dinner show.